Flyer is one of the most inexpensive means of promoting a business doesn't matter how small or big it is. Nowadays, everyone is making use of flyer to stand ahead from their competitors. You can choose the company that provides the services of flyer printing in Seattle, but make sure to choose a reliable company for achieving the best outcomes.
The primary goal of the flyer is to attract the attention of people, and for that, you have to keep some things in mind that you will come to know after going through this blog. Let's have a look at these!
Create a Focal Point
Of course, you want to attract the attention of people, isn't it, and for that, you have to create a focal point. Let's see how!
A professional quality image that you will use is quite vital. People don't give much attention to boring and dull pictures. So, ensure to use quality and colorful images to grab the attention of people.
Make use of colors that have an eye-striking effect. But, don't make use of many colors since it can make the flyer looks distracting instead of eye-catching.
It's important to make use of the right font size and remember the text must look clean and reflects your brand. For a consistent look, make sure to use maximum two fonts in your flyer.
Focus on the Benefits
Grabbing the attention of people is not sufficient; you have to keep the customers interested for a long time so as to express your entire message. Tell customers why they choose you and how you are different from your competitors. Hit the competition by making utilization of powerful terminology like "save, "guarantee," and so on.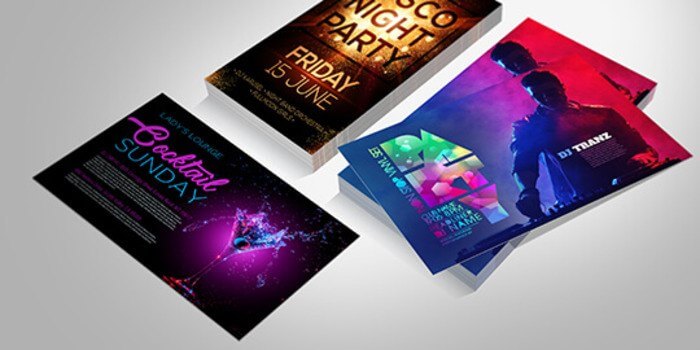 Keep Content Simple
When it's about flyers, then less is actually more. You only have few seconds to attract customers, so you have to create concise content regarding your product and its benefits. Don't clutter it with lots of pictures and text.
Give a Catchy Headline by Using Powerful Words
Use active verbs and avoid passive voice
Offer huge discounts
Everyone loves discounts as well as huge deals. By attaching a promotional offer, you can make the flyer look interesting to users. Offer good discounts to stop the user from going anywhere else.
Include a Call to Action
After conveying the message to the users, tell them what they should do next. Persuade your clients to take instant action- call now, order now and do on. Incorporate necessary information about the business such as website, location, contact information, etc.
Proofread the Content
Make sure to proofread everything before going to the next step of final printing. Misspelled word, wrong contact number can make the flyer worthless. Double-check each and everything to stay ahead from your competitors.
High-quality Printing
Now, the most important step is to final print the flyer. Getting the flyer printed on a quality paper by giving it glossy finish will leave the first impression in the minds of people. So, make sure to choose the best printing company for the same as it's a matter of your business.
Wrap Up
Hope you have enjoyed reading this blog and it helped you in knowing more about the ways to make flyer stand out from your competitors. A perfect flyer is a combination of concise message, great design as well as flawless finish. Keep yourself in place of your clients as it will help you in making a better decision.